Peter D'Abrosca Big League Politics
       Jul 31, 2018
Q:  ARE YOU GOING TO FIGHT THIS?
  "A US District Judge in Oregon recently ruled that boys must be allowed to use the girls locker room, showers and bathrooms, and vice versa in public schools throughout the state.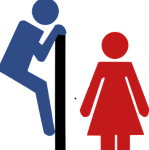 According to Judge Marco Hernandez, for children to "see or be seen by someone of the opposite biological sex while either are undressing or performing bodily functions in a restroom, shower, or locker room does not give rise to a constitutional violation." …..
"It is within Parent Plaintiffs' right to remove their children from Dallas [Oregon] High School if they disapprove of transgender student access to facilities," the judge said. "Once the parents have chosen to send their children to school … their liberty interest in their children's education is severely diminished."    π

                          >>>>>>><<<<<<