PELOSI MANSION'S BACKYARD

The Epoch Times – Matthew Vadum

Anti-poverty Activist  Says San Francisco Slums Resemble World's Worst
San Francisco has the highest rate of street homelessness in the United States.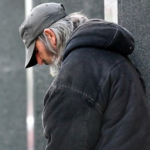 …Driven by a rapid growth in homelessness, San Francisco, considered by some to be an enlightened bastion of left-wing social engineering , now resembles some of the worst slums on the planet, according to international anti-poverty activist Leilani Farha.
 ….She has since traveled to Manila, Philippines; Jakarta, Indonesia; Mexico City, Mexico; and New Delhi and Mumbai in India. The situation in San Francisco is on par with those large overseas cities, she said.
 ….On any given night, more than 4,300 people sleep on the streets.
JB  >>>>>>>>