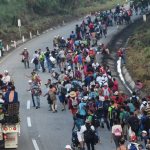 The 116 Congress 1st Session  House has passed H.B.House Bill 676.   It pledges
2% of our gross product by 2024 for foreign countries ( NATO ) security.

However, the House Speaker, Nancy Pelosi has pledged to not give One Dollar to build a wall, where needed, on the U.S. southern border.