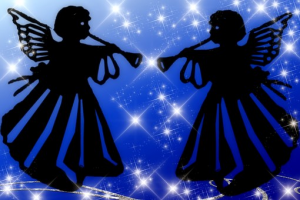 It was almost Christmas.  The "Gloria in Excelsis Deo" angel was decked out with a new sash and a brightened halo.  The Host of Heavenly Angels had put the final polish on this year's presentation to the Shepherds (who all had new staffs.)
The Angels Michael, Gabriel, and Raphael had spread their lustrous wings, perfecting their dramatic hov'ring routine.
Eastern Kings were scanning the skies for a prophesied Star, the tip of which was just appearing in the East.
And the woolly lambs, the high-eared donkeys, the Nubian-eared goats, and the lowing cattle were all fed and combed; …and fresh hay laid in the manger.
But there was one little toe-tapping angel that wasn't ready for Christmas……..
A young girl on earth had sent up a quiet prayer, and God had given this prayer to the Little Angel to fill.  If she succeeded she'd get her big angel wings for Christmas.  If she failed…….  Well, there was no time to dwell on that.
What she needed was lots of ribbons and a sewing machine, some silver and golden threads — and then someone to show her how to do it…..  Fortunately she had a big sister who was just an angel about such things — as well as being a real angel…..
She zapped a message across the airwaves and her sister appeared beside her in glowing robes and wondrous wide white wings that her little sister coveted shamelessly.  "Your wings are so divine!"  "As will yours be if we get this project done well and quickly."
So they gathered ribbons, and threads, and a sewing machine from — Where did a sewing machine come from in Heaven…?  Well, no matter.  They set to work, Big Sister showing the Little Angel how to thread a bobbin and run a seam.  Light shone all around them and carols filled the air as they worked.
After a time they had a pile of the most beautiful, shining, breathtaking ribbons!  Now it was time for the Little Angel to deliver them…
So she put them in a satchel on her back and walked out of the Heavenly Gates towards the little girl on earth.  Her little wings were cute but, well…  She could float really well but flight was a little beyond her… 
Still, she got where she was going.
But when she got there she realized that there was something else she needed to know to get the present to the little girl.  So she zapped the airwaves again and once again her sister appeared still glowing and still in possession of those wondrous white wings!  The Little Angel eyed those wings, sighed, then said, "I'm here but how do I get in?"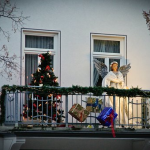 Her angel of a sister clucked her under the chin but said gently, "You see yourself in."
"You mean like I open the door and then I welcome myself in?"
"No.  You envision yourself in and so you will be in.  It's an angel thing……"
Well if it was good enough for her big sister with those gorgeous wings, …….  So she did as she had been told and immediately found herself next to the young girl's bed where the young girl lay sleeping.  Bringing out her satchel she gently arranged the prayed-for ribbons on the bed.  Suddenly she heard someone at the front door.
It was still dark outside but she knew who it was.  She imagined herself invisible and he didn't see her when he opened the door to check on the young girl.  The Little Angel stayed just long enough to hear him whistle softly and say aloud, "If I live to be a hundred, I will never know from where, came these lovely scarlet ribbons, scarlet ribbons for her hair….."
EPILOGUE:  That Christmas the Little Angel got her Big Angel wings and they were every bit as beautiful as her sister's.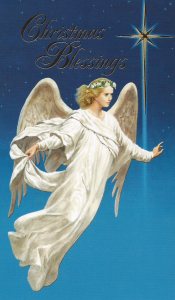 And then just this past year, so very long after that Christmas, that man, now very old, died.  When he came hesitantly up to the Gates of Heaven a shining angel with brilliant wide white wings greeted him with a wondrous smile. In one hand she held a gay profusion of scarlet ribbons…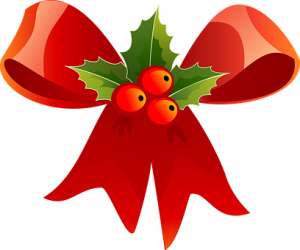 And as she extended her other hand to the man, he finally came to understand the long ago secret.  "You," he said quietly.
Then the scarlet ribbons angel took his hand and led him through the Shining Gates and into the Joy of Light Eternal.

                       Gloria in excelsis Deo.  Merry Christmas.
SCARLET RIBBONS by