Welcome to the PREMIER Edition of our newsletter US Right ON!
   How exciting it is to be bringing you this new website dedicated to America, Americans, Truth, and Facts – no matter how controversial.  We do not shy away from the truth.  And we will spill it out for any and all to see if they're interested.  We will spill it out even if they are not interested.  That's just who we are.
Now, on the right is the JB FYI News & Views column.  JB is a female survivor of  a half a century of employment gender wars where it was understood that boys needed more money than girls because, because…  Well, they were boys.
JB had her original newsletter going in the early-and-mid 1990s.  Each issue (they were actually on  folded 11 x 17 green paper in those days) started with a Question and with a Quote.  That format will live as closely as possible in the digitized world on this website.
She highlights "items" you might not otherwise see like odd decisions, government outrages, hot spots around the globe, water, health, the United Nations (and of course Agenda 21, now Agenda 30), and anything else that catches her interest.
Often she'll have 5, 6, 7 short articles to read over and ponder.  Just altogether great Stuff!
The JB FYI is a veritable melting pot of all things American.
JB's philosophy is simple.  In her words:
While living, seeing, and observing a rather broad spectrum of life I became a bit of an 'information junky'.  Part of that time was at a slower pace so one had a bit more time to ponder and sift happenings and information. One sometimes even had time to ponder multiple solutions to the same situation.
Now, with the speed of modern technology, time to sift out truth from fiction in information can be very difficult. The information I share with you I believe to be factual.  Therefore I will not bombard you with words, but rather I will give you sources of the information that formed my thoughts.
I ask in return that you never take information, including mine, as gospel without first sifting it through your thoughts, experiences and observations before deciding if it is right for you.   JB
Now, the center column will often feature me.  I am Ronnie Herne, a female USAF vet of that God forsaken war known as Viet Nam.  And I've done my fair share of rambling around the political spectrum having been born a Democrat, become a Republican, then helped form Perot's Reform Party of California, then the Constitution Party…..  Now I am simply Non-Affiliated.  Much simpler that way.

This center column will also feature a decidedly wide variety of articles. Self-Health which we both preach and practice will usually be in the mix.  One of the primary motivating forces behind this newsletter was the frequency with which we were asked for articles dealing with Self-Health, the old fashioned remedies Gramma knew about, and the alternative methods espoused by our naturopathic doctors.
We are gradually compiling these in our Navigation Bar under Self-Health where you can read them, print them out, forward them on.  This newsletter is a work in progress and Self-Health is an area that will grow steadily with this newsletter.  So be patient.  As we find more interesting and valuable information, and time to edit it in ….. we will add it to our lists.  To Your Best Health!  Always!
Also a featured topic in the center column will be GeoEngineering – definitely not a mainstream media topic.  GeoEngineering simply defined is: the malicious screwing around with the earth's natural attributes.  Very bad spooky stuff.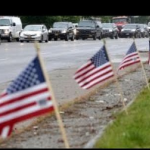 And we'll have Islam and Jihad;  Politics;  Preserving Foods;  Immigration;  America and Americans.  And a touch of Gardening tossed like a salad into the mix…
  By the way, check out our Red, White, and Blue up top there.  We have started compiling some genuine American song videos:  Kate Smith and "God Bless America"; Lee Greenwood  "I'm Proud to Be An American"; Lloyd Marcus "Welcome Home Brother" about Viet Nam vets.  And many more.  Up there in Red, White, and Blue…..  It's OK to check it out.

Now over here on the left is where you sign up for our e-mails.  We encourage you to sign up (if you do it right now you won't forget later…  :-)) ) so you never miss any of the upcoming, straight-talk-at-you editions of our newsletter. What a shame that would be, huh?

We will not be flooding your inbox. We will publish new issues probably 3 or 4 times a month.

And please be sure to tell your friends.  The bigger the audience, the better the hope for America.
Plus, the e-mail is free.  And addresses will NEVER be shared.
   Also on the left is our exciting and innovative new Audio Playlist.  These will be short audio clips with really sharp, sometimes even biting observations.  Always telling.  Sometimes humorous.  Just Great Listening!  Simply click on a title.  It's that easy.  Really.

   Also on the left at times will be Guest Voices.  These are authors who have relevant, timely, well drafted articles of interest for and to our subscribers.  There are some great voices out there.  Some of them will join us here.

So, Welcome Aboard!  Enjoy the excitement.  It's a great Time to be alive!
                                      >>>>>>><<<<<<