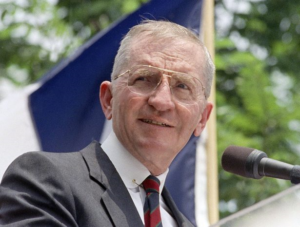 Ross Perot was a unique man who splashed across history like prism light bursting from a faceted crystal in the sun.  He was a devoted family man – an art and an oath mostly forgotten these days.  A Navy veteran.  An ardent and able boat man.

Gifted in the ways of horse trading.  Way ahead of his contemporaries in the magic of computers — and how to sell them!
A patriot who loved America, honored the military, sought to help POWs, and battled against the people who ridiculed the oh-so-real Gulf War Syndrome.
He turned one fortune into another.  And then into another.
On Wings of Eagles by Ken Follett memorializes dramatically Perot's daring Iran hostage rescue at the end of the 1970s.
His 1992 run for the presidency created shocking historical precedents, setting a stage for yet another blustery billionaire to run a quarter of a century later.
To Mrs Margot Perot and the kids — Thanks for sharing Ross with us!  We loved it, and we loved him!  God's blessings on you all.