FROM THE KITCHEN…   :-)) :-)) :-)) :-)) :-))   (Score: Five Smiles!)
Moist rich chocolate muffins with half the sugar. Just divine!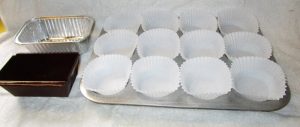 Shamelessly adapted in 2014 from COOK'S.COM chocolate puddle cake.
Set your oven to 350F. Line your cupcake tin with cupcake papers.
Ingredients: In a large bowl: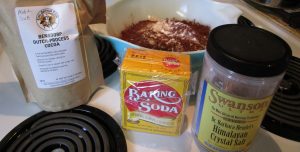 1 cup sugar. (Stevia to replace the second cup of sugar will be added below.) 
3 cups of regular flour (See gluten-free note below.)
6 Tbsp of cocoa. I use Bensdorp. The Tbsps are well rounded and are probably more like 8 Tbsp total.
2 tsp of baking soda, slightly rounded.
1 level tsp of salt. I use Himalayan crystal salt.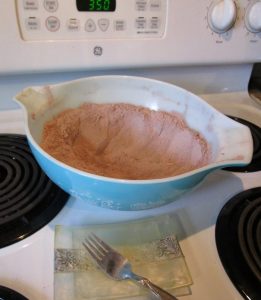 MIX these well. I use a fork.
  ADD:
¾ cup oil. Be a tad generous. I use olive oil.
1 tsp of vanilla.
2 level tsp of white powdered stevia, mixed well into two ounces (or so) of hot water.  See Stevia note below.
Add the stevia water to a measuring cup and fill to 8 ounces with cold water. Add this to mix.
Refill the measuring cup to 8 ounces of cold water.
  Add to that 3 Tbsp of white vinegar and then add that to the mix. 
Mix the dry ingredients in well with the liquids but don't beat it to death. Ladle into your muffin papers maybe 2/3 full.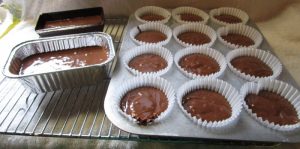 Place in oven. Check at 18 minutes. They often take a few minutes more than that.
They're done when a thin bamboo skewer (safer than a toothpick, but it's your option) comes out clean.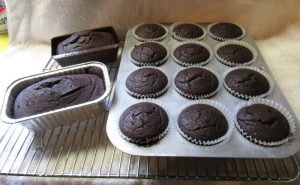 Done and Sooooo delicious! 
The silver minicake pan is aluminum from Walmart.  The brown paper minicake pan is from King Arthur Flour.  (These are courtesy mentions, not ads.)
The silver one may be about 50% bigger than the brown one.
NOTES:
Stevia:  I use powdered white stevia from a 4-ounce jar from Swanson Vitamins.com (next to the vinegar bottle in the picture).  I mention this because not all stevia is created equal: some are sweeter, some have an aftertaste.  It's best to buy small till you find the right one for you.
With this stevia, 2 level teaspoons are the equivalent sweetness of one cup of sugar.  Powdered stevia does not mix readily in cold water, hence the hot water mentioned above.  Do not add dry stevia to the dry mix.  It may not mix evenly.  You may get stevia "pockets" that are way too sweet.
If you should use the very diluted stevia where one teaspoon of that stevia is the same as one teaspoon of sugar (ie, like you'd use for coffee), you'll end up using a full cup of that stevia to replace the full cup of sugar.  I've never tried that………  And don't plan on it.  Still, it might work.
Gluten-free all purpose flour: If you are baking these as muffins, you can just substitute a general GF flour cup-for-cup. If you decide to make it into a cake (as it was originally intended to be) you will need a binder like Xanthum Gum for it to rise correctly. Check the label.
Not all GF flours are created equal, either!  Different flour ingredients will generally result in different tastes and this can have sad results when you are seeking perfection. One I used with good results was the general all purpose GF flour from King Arthur but it is on the expensive side.
These muffins get better as they age. The taste gets richer and deeper and they retain their moistness. I keep mine in the fridge covered with plastic wrap. Mine hold easily a week but it's not so often that they get that chance… They also freeze very well.
Gift-giving note: I happened upon some aluminum mini-cake pans online at Walmart, 2" deep by 3" wide and 6" long, 35 of them for something under $12. (King Arthur Flour has paper mini-cake pans if you hesitate using aluminum.) The recipe above will make more than 12 muffins…  We were generous with some ingredients…  Put the extra muffin mix in a couple mini-cake pans and you have a thoughtful gift ready for the giving. These take several more minutes to bake. They are done when the bamboo skewer (or toothpick) comes out clean.  These can also be frozen. Wrap well.
I've never used the mix just to make minicakes but I'll guess that the recipe would make 4 of the silver ones and probably 6 of the smaller brown ones.  And the Holidays are coming!  People love getting homemade goodies done up in holiday bags, or colored plastic wrap and tied with a bow.  And only half the sugar!
Truly truly delicious!!
To your health! Always.
Ronnie Herne (c) 2018